WOMEN WHO SURF COVER FEATURING ROSY HODGE
Lucia Griggi's lovely cover shot of lovely Rosy Hodge throwing a lovely turn.
All very lovely, but this colorful, fun photo betrays the gravitas of Women Who Surf.
From Rochelle Ballard head-butting the Huntington Pier to Bethany Hamilton losing an arm to a shark, to Keala Kennelly head butting the reef at Teahupoo to Mercedes Maidana getting a concussion at NelScott Reef to Maya Gabeira nearly drowning at Nazare - these women have all survived various physical, emotional, financial and spiritual traumas: Broken homes, broken hearts, broken boards, broken heads.
It's not all light, colorful reading and clean slices off the top, but Women Who Surf does justice to all these women, because they are tough, taken their lumps, paid their dues - and survived to push the limits of women's surfing from compeition to Teahupoo. Photo: Lucia Griggi.
WOMEN WHO SURF - KEALA IN CHOPES AMBULANCE
Keala Kennelly throwing half a shaka en route to the hospital in Papeete.
This is one shot of a long sequence by Mary Showstark, detailing Keala's horrible Teahupoo faceplant and trip to the hospital for face-saving surgery.
The publisher didn't want to use any of it, because it was too gory.
Photo courtesy Mary Showstark.
WOMEN WHO SURF - KEALA AT THE 2016 XXL AWARDS
In April of 2016 Keala Kennelly accepted a much deserved WSL XXL Big Wave Award for returning to Teahupoo and hucking herself into another beast on the wave that almost killed her.
Keala's XXL speech is the intro to Women Who Surf, and an example of what these women have been through.
Photo: Ben Marcus.
WOMEN WHO SURF - KEALA AT TEAHUPOO
Keala Kennelly on the Teahupoo wave that won her the 2016 WSL XXL award for Biggest Barrel - the first time a woman has won a co-ed award.
This is the photo that should have been the cover - or one like it.
This is what Women Who Surf is about: Women pushing the limits of what women can do in big surf, gnarly surf, competition.
Oh well, nobody listens to Turtle.
Photo: Tim McKenna.
WOMEN WHO SURF - ROCHELLE BALLARD GETTING DA VINCI WID IT
Rochelle Rochelle: A young girl's erotic journey from Hanalei to Huntington?
Naw naw naw.
John Bilderback's Davinciesque portrait of Rochelle Ballard was shot for a book called Extreme Surf - which detailed all of Rochelle's various injuries.
Alas, this photo didn't make Women Who Surf - a shame.
Rochelle's been banged around worse than a rodeo cowboy: From headbutting a piling at the Huntington Pier and nearly getting killed to death, to getting Chris Won's butt to her head and nearly getting paralyzed while shooting Blue Crush.
But she's a Kauai girl and tough and still going strong - teaching yoga and health on the Garden Island. Rochelle is the first profile, as she paved the way for Bethany Hamilton and Maya Gabeira and Paige Alms and all the hell-women who followed.
WOMEN WHO SURF - BALLARD AT BACKDOOR
In her profile, Rochelle is credited with being one of the first women to really ride the barrel. This is Rochelle at Backdoor, photo by Tony Heff.
WOMEN WHO SURF - WRENNA DELGADO AT HIMALAYAS
There's something something about this portrait of Wrenna Delgado at a North Shore outer reef: A strong, determined girl on a big gun in a moment of solitude - watched over by Mount Ka'ala - before the next bomb rolls through and she hucks herself into it.
Originally from New Jersey, Women Who Surf teases Wrenna about being homeschooled.
But she is one of many waterwomen who heard the siren call of the North Shore and never looked back. Photo: Matt Paul.
WOMEN WHO SURF - MERCEDES AND WRENNA WITH BOOKS
Women Who Surf was officially published in the middle of May.
Three copies were Fed Exed to the North Shore, just in time for Mercedes Maidana's birthday part at Three Tables.
This is the charming and glamorous and concussion-recovering Mercedes Maidana with the shockingly tall and way pregnant Wrenna Delgado, smiling freshly with their fresh copies of Women Who Surf. Photo: Ben Marcus.
WOMEN WHO SURF - BETHANY AT PE'AHI
As Women Who Surf was being written at Snapper's Bar in Waikiki during the winter of 2016/2017, Bethany Hamilton was surfing as a wild card in the WSL Fiji Pro and giving it heaps, earning swelloquent accolades from Kelly Slater on Instagram:
"Anyone who isn't inspired by@bethanyhamilton and her physical attributes after losing her arm to a tiger shark in Kauai some years ago should check their pulse. The hardships she overcomes to perform at the level she does in the ocean is arguably unparalleled in men's or women's sport."
Bethany's profile details her arc from victim to victor and includes images of her towing - and then paddling!!!! - big days at Peahi. Photo: Erik Aeder.
WOMEN WHO SURF - ALANA BLANCHARD SHRALPING
As the book was being written, the publisher asked if the author could pull back on all the talk of sex and sexism and sexy marketing and any controversy - but that is an issue almost all of these women have dealt with: Market themselves as surfers and make X dollars, or market themselves as healthy models and make bank.
Alana Blanchard is a prime example of that. Her fellow surfers defend her and emphasize that she is a serious surfer who sees modeling as an opportunity, and nothing more. Sequence: Lucia Grigg.
WOMEN WHO SURF - ALANA MODELING
The camera does love Alana Blanchard - not that there's anything wrong with that.
She was just born this way and is balancing the modeling with the shredding and by all accounts having a good time of it - despite some snickering and finger-pointing from the sidelines. Portrait: Lucia Griggi.
WOMEN WHO SURF - MAYA GABEIRA
Eye of the tigress. Maya Gabeira is pretty and kind of delicate-looking, but she ain't so delicate.
This woman got a world-class ass-whuppin' in giant surf at Nazare and basically drowned.
The guys who frantically revived her on the beach said she was gone.
But she threw up a half-gallon of seawater and lived.
She also got caught in the worst possible spot past the channel at Teahupoo and almost drowned there, too.
But she didn't.
She's tough and her story is illuminating. Photo courtesy Red Bull.
WOMEN WHO SURF - MAYA GABEIRA AND POWER POSSE
Cue Little Green Bag for Maya Gabeira and her Nazare Dogs: Pedro Scooby, Felipe "Gordo" Cesareno and Carlos Burle.
Maya Gabeira is an interesting gal. There's a lot of pretty Brazilian girls working in food trucks along the North Shore, so how and why did this one become such a charger, willing to risk life and limb at Nazare and Teahupoo and elsewhere, nearly drowning at least twice, but never backing down?
When you understand Maya's family background, you start to get the picture of where her determination and courage come from.
Interesting gal. Interesting family. Tough. Photo courtesy Red Bull.
WOMEN WHO SURF - ANDREA MOLLER ON THE JOB
Fred Pompermayer's portrait of Maui paramedic power surfer Andrea Moller is great, but didn't make the cut. Dangit.
Glad to show it here. Thanks, Fred.
Andrea Moller is a Brazilian athlete who ended up in the best place for a waterwoman: Maui.
She paddles outriggers, windsurfs, kite surfs, surfs. She does it all and with her partner Maria Souza they are pushing the glass ceiling of women towing giant waves.
They've paid their dues and continue to pay. Portrait: Fred Pompermayer.
WOMEN WHO SURF - ANDREA MOLLER AT PE'AHI
Andrea would go, and sometimes she pays.
That's Andrea at Pe'ahi two years ago, going fast but not fast enough and about to take one on the cabeca.
She got drilled, but shook it off and got some more.
Funny that a Paramedic would spend her off hours putting herself in peril. Photo: Erik Aeder.
WOMEN WHO SURF - LEAH DAWSON ON THE TAIL(GATE)
South African photographer Jianca Lazarus suggested Leah Dawson but Jianca's black and white portrait and action of Leah didn't make the cut, dangit.
Leah Dawson is a style mistress and a female proponent of ride anything from alaia to logs - and she makes it look good.
Leah has a lot to say about the portrayal and marketing of women surfers. Photos: Jianca Lazarus. (Sorry, man)
WOMEN WHO SURF - LEAH DAWSON AT H BAY
Leah Dawson in black and white, soul-styling at An Outer Island Spot That Shall Not Be Named. Photo: Jianca Lazarus.
WOMEN WHO SURF - MERCEDES IN RED
Broken hearts, broken boards, broken heads. Mercedes Maidana has seen good times and bad times, and she is toughing it out.
Originally from Argentina, Mercedes also followed the siren call of the surf to the North Shore - where she fell in love with big surf.
Her story about getting caught inside at giant Jaws on a dead PWC is harrowing.
Soon after that, Mercedes was competing at the Nelscott contest in Oregon, got thwacked by her board and suffered a life-changing concussion.
She had to move to Austin, Texas to get away from the surf and save her own life. Quite a story. Glam portrait: Nora Lezano.
WOMEN WHO SURF - MERCEDES MAIDANA INJURY PHOTO
This is the not so glamorous side of women in big waves.
At the NelScott contest in Oregon, Mercedes Maidana got caught inside and then caught her board in the head - thwacked so hard she is surprised it didn't kill her.
She didn't die, but as she says in the book: "Death is easy. Dealing with a serious health problem is hard."
Mercedes suffered a serious, life-changing concussion and has been dealing with it ever since. Photo courtesy Mercedes Maidana.
WOMEN WHO SURF - MERCEDES AT SUNSET
Mercedes Maidana doing what she loves best - grabbing a rail and going at Sunset Beach.
Hopefully she will be back to this soon.
WOMEN WHO SURF - EASKY AT MULLACHMORE
Strong enough for men, but this lady likes this Irish Shrek of a wave, too.
Mullachmore is nothing less than a giant, powerful, cold, mean, green mother of a wave - colder that Mavericks, throwing out like Teahupoo, long as giant Cloudbreak.
This is a serious serious wave that hasn't killed anyone - yet.
Easky grew up in the area and had the Irish heart to give it a go.
Easky wrote her own essay in Women Who Surf - in the spirit of Joyce, Keats, C.S. Lewis and other famous Eire Heads.
Photo: Christian McLeod.
WOMEN WHO SURF - GET HIJAB! EASKY IN IRAN
Hey, get hijab!
As if towing Mullachmore wasn't gnarly enough, in 2013 Easky boldly went where few surfers of any kind have been before - teaching women how to surf in the Baluchistan province of Iran.
Easky's rad.
Read her essay in Women Who Surf.
Photo courtesy Wave of Freedom.
WOMEN WHO SURF - BIANCA VALENTI SOAKS UP SUN
Everyone should have a photographer friend who records your every wave and mood, the way Sachi Cunningham photographs Bianca Valenti.
This is Bianca at Ocean Beach, San Francisco on what looks to be one of those beautiful fall days, with her face in the sun like a sunflower, soaking up every bit of warmth as she waits for another bomb.
Good stuff. Seeing Sachi Cunningham's bold, arty photos of Bianca Valenti was one of the surprises of this book.
Photo: Sachi Cunningham.
WOMEN WHO SURF - BIANCA HIPPIE SILHOUETTE
Another cool Sachi Cunningham photo of Bianca Valenti.
This one belongs on a velvet black light poster being sold in a head shop at the corner of Haight and Ashbury circa 1967.
So cool.
Photo: Sachi Cunningham.
WOMEN WHO SURF - BIANCA'S COOL DROP
This photo almost looks like a mistake, but it's a lovely mistake.
Swimming out at Ocean Beach to take water shots is no picnic, and it almost looks like Sachi was out of position or not prepared when Bianca took off on this bomb.
The result is framed funny and has some weird sparkles, but just a lovely photo.
Photo: Sachi Cunningham.
WOMEN WHO SURF - PAIGE'S PE'AHI PIT
Matt Warshaw summed up Paige Alms nicely nicely in The Encyclopedia of Surfing: "Statuesque big-wave surfer from Haiku, Maui; a "certified badass" according to SURFER Magazine; called "the world's best female big-wave surfer" by Surfline in 2015. Alms took to big-waves quickly, cutting her teeth on heavy water outer reef breaks by the time she was 15. Two years later she was regularly tackling big days at the fabled Honolulu Bay, and towing into even bigger surf at Jaws."
Two winters ago (2015), Paige Alms paddled into a 20-foot bomb at Pe'ahi, pulled into a barrel and made it look goooooood.
Warshaw continues: "The ride earned Alms the Women's Best Overall Performance Award at the 2015 WSL Big Wave Awards. "It's funny, my major goal for years was to get barreled at Jaws," she said. "So now I'm gonna have to hunt for something new I guess."
This winter, she found something new by winning the women's division of the 2016 Pe'ahi Challenge.
Paddling, by the way, not towing.
She's rad.
WOMEN WHO SURF - ADVENTURESS ALISON TEAL
Paging Dr. Freud!!!!
Alison Teal kissed a snake, and she liked it. She also thinks kissing that reptile in a Moroccan casbah gave her good luck and protected her from a bad wipeout at Anchor Point soon after.
Alison Teal has had adventures from one end of this planet to the other: Making bathing suits from scary mountains of plastic trash in the Maldives, to paddling danger close to flowing lava in her native Big Island.
Interesting gal. Read all about her in Women Who Surf.
WOMEN WHO SURF - MUCH ADO ABOUT PAULINE
Most recently - like, yesterday 5-21-2017 - Pauline Ado won Gold at the 2017 ISA World Surfing Games on her home turf of Biarritz.
Vive la France!!
As Pauline says in Women Who Surf: "I have no ide what I would be doing it I wasn't surfing professionally. I wanted to be a pro surfer since I was 13. I don't think I have ever wanted to be anything else."
Well, she's doing pretty well, going back to beating Sally Fitz and Courtney Conolgue at the ISA World Juniors at the age of 15.
All that, and a bit of a social rebel too. (See next photo)
WOMEN WHO SURF - PAULINE A PLAGE '01
Pauline is kinda funny about the obsession with women surfers and their derrieres.
Check out Pauline a la Plage 01.
WOMEN WHO SURF - SALLY FITZ LIKES POWER
In her teens, Sally Fitzgibbons was a promising track athlete who came to a fork in the road: Surfing or running?
Sore thighs of Mentawais?
800 yard runs, or 80 yard barrels?
Sally chose wisely and has carved a good life for herself as a surfer and businessperson.
This is Sally at Margaret River. She likes the power.
WOMEN WHO SURF - SALLY FITZ AT OURS
Sally Fitz ain't afraid of the barrel.
Here she is pulsing through the pit at Ours in Sydney.
WOMEN WHO SURF - ROSY HODGE
The face and voice of the WSL webcasts, Rosy Hodge is a talented, dedicated surfer from South Africa who had a good pro career, and then found a second career grilling pro surfers about their heats, shark attacks, whatever.
This is Rosy breaking on through to the other side at Backdoor.
Photo: Lucia Griggi.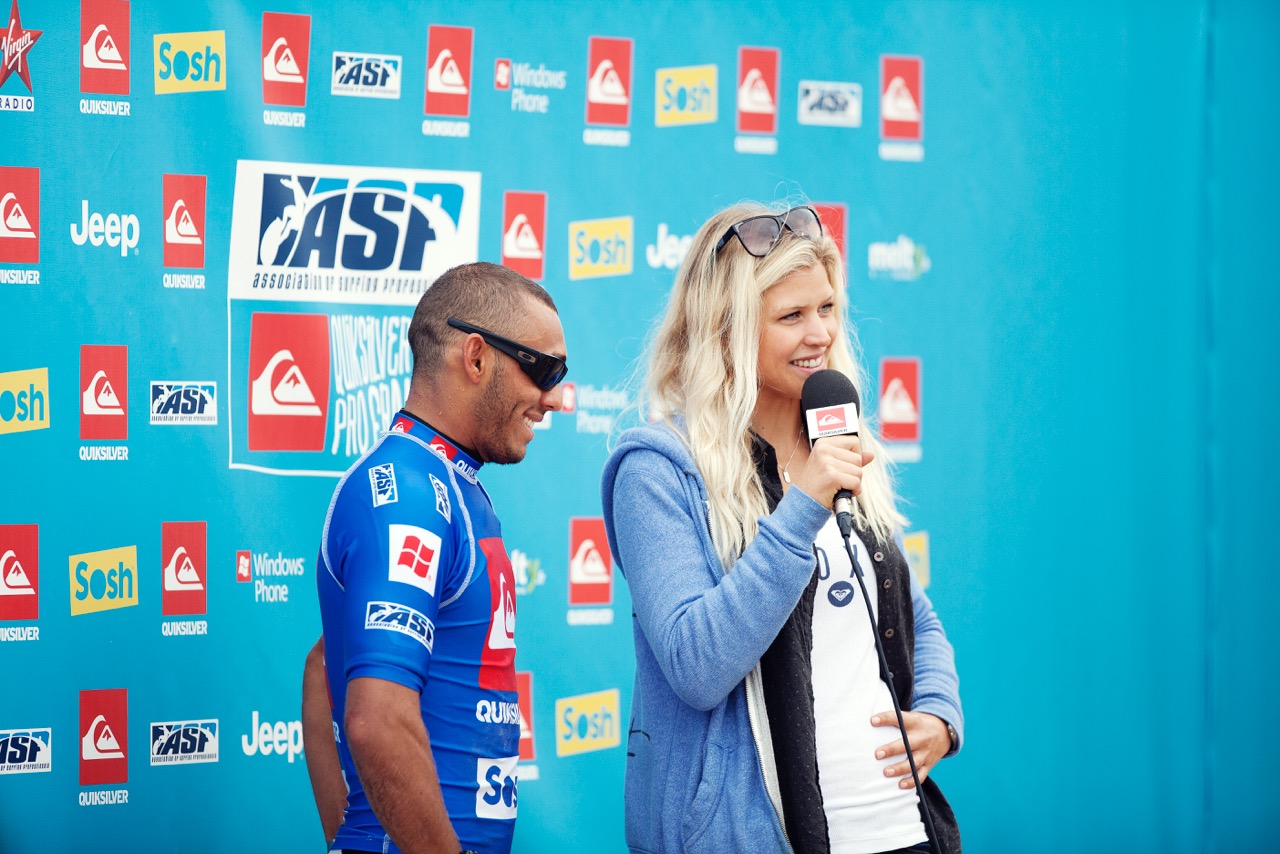 WOMEN WHO SURF - ROSY HODGE ON THE MIC
Before the ASP became the WSL, Rosy Hodge grills Jadson Andre on his loss in the final to some guy named John John Florence at the Quiksilver Pro France in 2014.
Some people are not comfortable with public speaking.
Rosy is not one of those people and is a natural on the mic and in front of the camera for the WSL webcasts - which reach hundreds of thousands in real time.
Photo: Lucia Griggi.
WOMEN WHO SURF - JANET MACPHERSON = SURFISTICATE
Janet Macpherson is a "surfagenarian." Almost 80 years old, she has a house at Pavones in Costa Rica, at house at Scorpion Bay and a house in Malibu - and she surfs surfs surfs to keep herself mentally and physically sharp.
This is Janet with her beautiful, mother of pearl inlaid Renny Yater gun in the living room of her Malibu home.
WOMEN WHO SURF - JANET AT PAVONES
At an age when most people are like Charley Buckets grandparents in Willy Wonka and can't get out of bed, Janet is surfing hard through her 70s.
This is Janet at Pavones, a few years ago - going.
WOMEN WHO SURF - JANET WITH GRANDKIDS
Janet's son Sean Macpherson is an uber-succsesful hotelier, resterauter and club owner who changed the face of Los Angeles nightlife, then took Manhattan - where he is partners in several hotels and restaurants: The Jane, the Maritime, the Bowery, the Crow's Nest.
Sean also produces lovely children with his wife. Rachelle.
This is Janet pulling faces with her grandkids Max and Dash in Mexico.
WOMEN WHO SURF - KAREN GALLAGHER
Aw phooey, Karen Gallagher was one of the women who got cut from Women Who Surf, along with Rachel Pettit, Florencia Gomez-Gerbi, Sarah Gerhardt, Nancy Hastings, Makani Adric and Kelia Moniz.
Sorry goils. Not the author's call.
Oh well, if the book sells a zillion copies, maybe there will be demand for a sequel and we can include everyone that got left out.
This is Karen at her Sunset Beach Surf Shop, with uncle Fred van Dyke. The shop struggled and closed in the 1980s. If she owned that business now that North Shore is like Fisherman's Wharf, she'd be making $5000 a day just selling t-shirts.